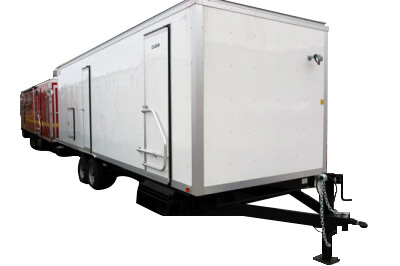 Trailer
ACSI - us
If you are considering investing in a mobile decontamination trailer that is Made in USA, you have come to the right place. Pacific Dust Collectors and Equipment is an authorized dealer of decontamination trailers that are OSHA Compliant and spacious. What's more, our trailers are designed for quick and easy setup, saving your crew more time and effort.
About Our Decontamination Trailers
Check out the key features of our decontamination trailers:
 Climate control system offers maximum comfort
 Spacious design accommodates multiple individuals to cut waiting lines
 Features fully functional toilets, sinks, and urinals.
 Separate fresh water (300 gallons) and wastewater (1,150 gallons) storage compartments
 Separate gender compartments
 Separate entry and exit doors
 Water saving faucets
 … and more!